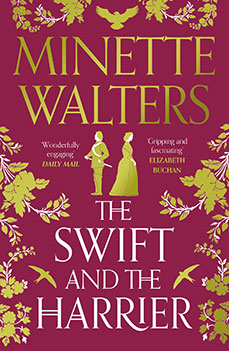 Dorset, 1642
When bloody civil war breaks out between the King and Parliament, families and communities across England are riven by different allegiances.
A rare few choose neutrality.
One such is Jayne Swift, a Dorset Physician from a Royalist family, who offers her services to both sides in the conflict. Through her dedication to treating the sick and wounded, regardless of belief, Jayne becomes a witness to the brutality of war and the devastation it wreaks,
Yet her recurring companion at every event is a man she should despise because he embraces civil war as the means to an end. She knows him as William Harrier, but is ignorant about every other aspect of his life. His past is a mystery and his future uncertain.
THE SWIFT AND THE HARRIER is a sweeping tale of adventure and loss, sacrifice and love, with a unique and unforgettable heroine at its heart.
Impressively imagined and so beautifully written, The Swift and the Harrier is a perfect story, full of Walters' trademark sense of place and time, with characters that are so fully formed and natural you feel you know them, and all wrapped in a story so well drawn that the images it creates in your imagination will endure long after you finished reading it. It is a complete, perfect, triumph of a tale.
PAUL BLEZARD
To read the full LoveReading review, click here
…
Please visit the website of Minette's literary agent Jane Gregory at David Higham to see reviews and details of rights sales.