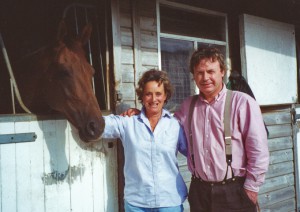 M
inette Walters was born in Bishop's Stortford in1949 to Samuel Jebb and Colleen Jebb. As her father was a serving army officer, the first 10 years of her life were spent moving between army bases in the north and south of England. Her father died in 1960, following years of ill health from his desert service during World War II. Minette was educated through a generous Foundation Scholarship at the Godolphin School in Salisbury.
During a gap year between school and Durham University, 1968, Minette volunteered in Israel with The Bridge in Britain, working on a kibbutz and in a delinquent boys' home in Jerusalem. She graduated from Trevelyan College, Durham in 1971 with a BA in French.
Minette met her husband Alec Walters while she was at Durham and they married in 1978. They have two sons: Roland, who is married to Charlotte, and Philip, who is married to Sarah: and three granddaughters: Madeleine, Martha and Hermione.
Minette joined IPC Magazines as a sub-editor in 1972 and became an editor of Woman's Weekly Library the following year. She supplemented her salary by writing romantic novelettes, short stories, and serials in her spare time. She turned freelance in 1977 but continued to write for magazines to cover her bills.
Her first full-length crime novel, The Ice House, was published in 1992. It took two and a half years to write and was rejected by numerous publishing houses until Macmillan Publishers, bought it for £1250. Within four months, it had won the Crime Writers' Association John Creasey award for best first novel and had been snapped up by 11 foreign publishers. Minette was the first crime/thriller writer to win three major prizes with her first three books. Her second novel, The Sculptress, which was inspired in part by an encounter Walters had as a volunteer prison visitor, won the Mystery Writers of America Edgar Award. Her third novel, The Scold's Bridle, then won the CWA Gold Dagger, giving her a unique treble.
Minette is published in almost 40 countries and has sold in excess of 25,000,000 copies of her books worldwide. Her themes include isolation, family dysfunction, rejection, marginalisation, justice and revenge. Her novels are often set against real backgrounds and real events to draw her readers into the 'reality' of what she is writing about.
Minette describes herself as an exploratory writer who never uses a plot scheme, begins with simple premises, has no idea 'whodunit' until halfway through a story, but who remains excited about each novel because she, along with her reader, wants to know what happens next.
As part of the British project 'Quick Reads', to encourage literacy amongst adults with reading difficulties, she wrote a 20,000-word novella called Chickenfeed. In competition with works by other best-selling authors, such as Ruth Rendell, Maeve Binchy and Joanna Trollope, Chickenfeed has won two awards as the best novella in the 'Quick Reads' genre. It has also been translated into several languages.
In 2017, Minette realised a long-held ambition to publish an historical novel. Set in the 14th century at the time of the bubonic plague, The Last Hours took several years to research and write. The story contains many of the same themes that occur in her earlier books, and, along with its sequel, The Turn of Midnight, published in 2018, draws readers into the frightening reality of the Black Death.
Minette's goal is to make history as exciting and readable as any of her psychological crime thrillers. Her third historical novel, The Swift and the Harrier, was published in 2021. Set in the 17th century, it explores the division and devastation of the English Civil War.
In 2019 Minette was appointed a Deputy Lieutenant of Dorset.